Human Resource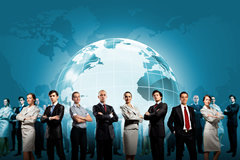 AMTek Semiconductors Co. Ltd: A Top Analog IC provider.

Our core team member is from Philips and TI.
We have professional IC design processes—in collaboration with chief wafer fabs, packaging
plants and testing houses in the world.

We have superb quality control system (ISO 9001 verified) and related policies—Quality is the
#1 objective while, we are also dedicated to system application designs, therefore exploring potential markets.
It is our belief that people are the most important assets for our company. By the idea of sharing profits with our employees, we look for, filter, train and cherish valuable people. In accordance with the performance-oriented principle, we would like to provide every single employee with respectable salary under a decent welfare system.
Salary & Welfare System

1. For Salary, we provide:
A versatile salary system, in compliance with a potential raise as the projected goals are achieved;
Allowance with extra job missions;
Allowance while designated for an overseas assignment.


2. For Extra Bonus, we have: Annual bonus;
Extraordinary & Encouragement bonus; Employee Share Bonus;
Stock Options.

3. For Insurance and Health Checkup, we offer:
Laborers' Insurance, Health Insurance and Collaborative Insurance; Accident Insurance for Overseas Trips;
Annual health checkup for free.

4. For Annual & Special Leave, we have: Weekly 2 Days Off;
Special Leave, including maternity & paternity leave.

5. For Retirement Planning, we are prepared with: A Monthly Reserve for Pension Plans.

6. For Monetary Gifts of Special Festivals, we have:
Monetary Gifts For the Three Chinese Festivals.
Cash Gifts on the Laborers' Day.
Cash Gifts for Weddings, Funerals and Births.

7. Leisure Activities include:
Touring Domestic and Overseas Trips; Seasonal Happy Birthday Parties;
Dining Out Gatherings on an Irregular Basis; Raffle Draws for Prizes at the Year-end Party.

8. For Other Welfare Benefits, we have: Daily Snacks;
Overtime Meal Allowance.